Leading business magazine highlights success of Paragon Toolmaking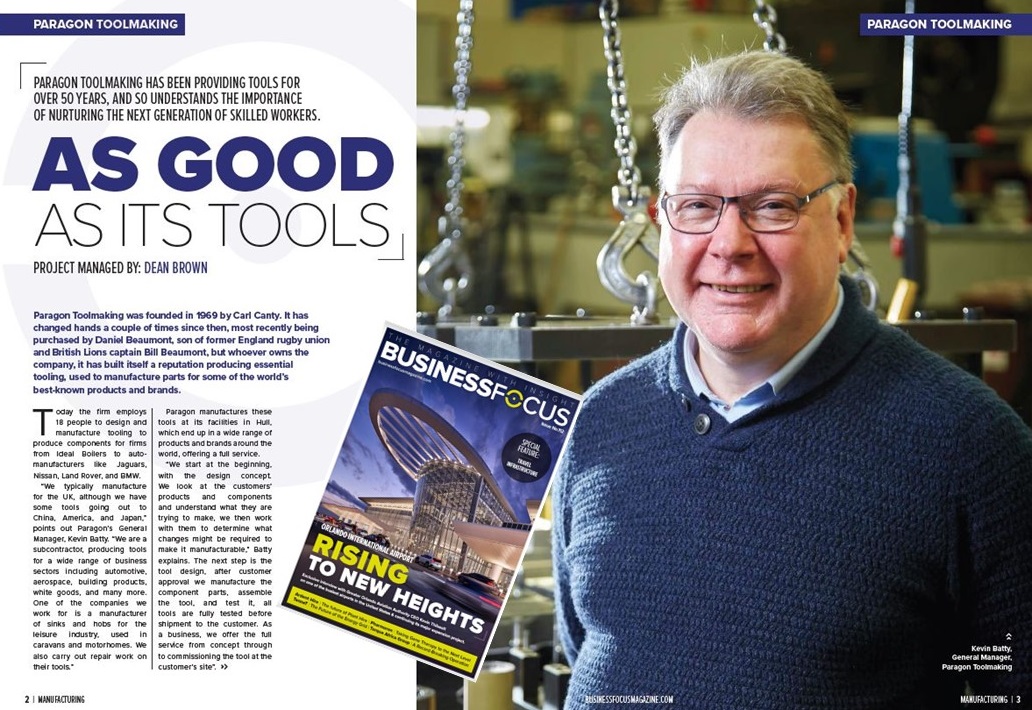 Paragon Toolmaking is delighted to be featured in the August 2023 issue of Business Focus Magazine, a leading global business magazine directed at high-level executives.
Business Focus Magazine provides quality coverage of 'truly inspiring companies that have achieved the highest standard in their field of expertise.'
Below is the full article, written by Dean Brown, who interviewed our General Manager, Kevin Batty.
Paragon Toolmaking was founded in 1969 by Carl Canty. It has changed hands a couple of times since then, most recently being purchased by Daniel Beaumont, son of former England rugby union and British Lions captain Bill Beaumont, but whoever owns the company, it has built itself a reputation producing essential tooling, used to manufacture parts for some of the world's best-known products and brands.
Today the firm employs 18 people to design and manufacture tooling to produce components for firms from Ideal Boilers to auto-manufacturers like Jaguars, Nissan, Land Rover, and BMW.
"We typically manufacture for the UK, although we have some tools going out to China, America, and Japan," points out Paragon's General Manager, Kevin Batty.
"We are a subcontractor, producing tools for a wide range of business sectors including automotive, aerospace, building products, white goods, and many more. One of the companies we work for is a manufacturer of sinks and hobs for the leisure industry, used in caravans and motorhomes. We also carry out repair work on their tools."
Paragon manufactures these tools at its facilities in Hull, which end up in a wide range of products and brands around the world, offering a full service.
"We start at the beginning, with the design concept. We look at the customers' products and components and understand what they are trying to make, we then work with them to determine what changes might be required to make it manufacturable," Batty explains.
"The next step is the tool design, after customer approval we manufacture the component parts, assemble the tool, and test it, all tools are fully tested before shipment to the customer. As a business, we offer the full service from concept through to commissioning the tool at the customer's site".
The talent behind the tools
Nobody knows better than Paragon the importance of having the right tool for the job, but Batty is also keen to point out that the most essential component is the person behind the tool.
"The key element behind our business is its people," Batty insists. "Their skill and their knowledge. That is why we put a lot of energy into looking after and developing our people."
Paragon Toolmaking develops those people from the ground up, with a huge proportion of the people in the company starting out as an apprentice and progressing upwards.
"Currently 60% of our workforce is Paragon homegrown. They started here and still working here," Batty tells us.
"Our longest-serving employee has been here for 41 years, and he started as an apprentice. Our average length of service is 11 years. It is all about preserving skills and knowledge by passing it on to young people entering the business. We need our people to understand how a tool is built, how it works, and how it manipulates the component, this is best learnt hands-on."
Paragon's role in finding and nurturing talent has never been more essential, as a skills shortage is being noticed across the manufacturing industry.
"One of the key issues that schools have is they want to grab and hold onto good people and put them through the academic route, but that is not always the right route for everybody," Batty reflects. "We have an ongoing apprenticeship programme, but we struggle to attract the right calibre of people willing to start at the bottom level."
It is a problem exacerbated by the fact that a lot of employers do not share Paragon Toolmaking's commitment to investing in people.
"We find that a lot of employers believe the skills are just out there for them to recruit. We have lost two toolmakers to a larger organisation in the last year, and that is annoying because they are not putting people back in. We should all be putting our fair share into that pool," Batty points out.
"We all only work for around 50 years of our life. That means one-fiftieth of your employees should be new to the workforce, and you should be training them, not expecting them to fall out of universities.
"They provide a knowledge base but not the skills and experience."
Paragon Toolmaking recruits apprentices with the vision of equipping them with a toolmaker's skills and knowledge in the space of four years. "But you will spend the rest of your career honing those skills, making things more accurate, making them work better, learning the 'art of the toolmaker'," Batty emphasises.
"You can't build that without learning as you go along."
Locally sourced
This commitment to growing local skills is only part of Paragon Toolmaking's ongoing approach to developing British industry as a whole.
"We have to have a UK supply base and a UK manufacturing base, and if we are not careful as a country, we will lose that," Batty argues. "If you don't have that local supply chain you leave yourself open to being held to ransom by other markets."

This is why Paragon Toolmaking is committed to sourcing through UK suppliers.
"It's important to support the business around you," he says.
It is an approach that leads to strong and long-lasting supplier relationships, such as the firm's ongoing collaboration with die sets and toolmakers' supplies manufacturer, DANLY.
"That relationship goes to the point of friendship," Batty tells us. "We first started dealing with them in the early 1980s. It is about ensuring you communicate, and that is our first port of call. We cannot produce quality tools if they do not have quality supplies to sell to us. Price is important, but never the single driver in what we buy. We build quality products. If we are the cheapest toolmaker supplying them, we have probably got it wrong."
This is why Paragon Toolmaking's approach always considers the full-life quality of its products.
As Batty says, "We have tools come back for us to be serviced that have operated for over a million strokes since they were last serviced. Some have run for over 20 years manufacturing a lot of components."
That kind of longevity is reflected in Batty's vision for Paragon's future.
"We like to bring people through the business, and a few of us retiring in five years. So, we are already considering who will be replacing us from within the business and taking on apprentices to fill the role they vacate" Batty says. "I often go to our customers who will have an old toolmaker in their 60s, ready to retire in a couple of years, and he will say, 'They've just got me an apprentice!' That gives that apprentice maybe two years to absorb 40 to 50 years of knowledge.
"At Paragon we know that our employees are our most valuable asset, the need to develop the employees of the future and the importance of an ongoing apprentice program."
View the article in the magazine